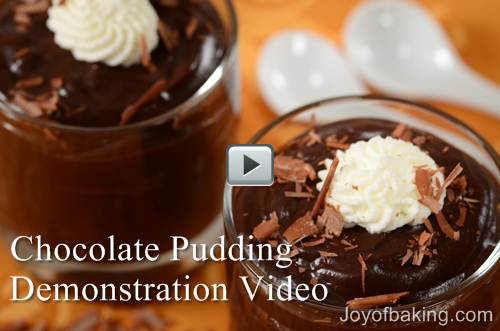 Chocolate Pudding Demonstration Video >
In our 171st video Stephanie demonstrates how to make Homemade Chocolate Pudding.
There is nothing more satisfying than a really good homemade Chocolate Pudding, one with a velvety smooth texture and deep chocolate flavor. I love everything about it and if you have always settled for commercially made puddings, than you are in for a treat. This homemade chocolate pudding is quite easy to prepare and what makes it so perfect is that most of the ingredients you will already have in your cupboards. Things like milk, cream, sugar, eggs, cocoa powder, and chocolate. And while some may think of puddings as old fashioned, when you serve this dessert in pretty bowls with a large dollop of whipped cream, there is no better way to end a meal.
This chocolate pudding could be called a "double" chocolate pudding, as it gets its deep chocolate flavor from both unsweetened cocoa powder (regular or Dutch-processed) and semisweet (or bittersweet) chocolate. When you make a chocolate pudding what you are really doing is making a 'cooked' custard that contains cornstarch (corn flour) to make it thick enough to eat with a spoon. The danger zone with any pudding is cooking it over too high a heat causing lumps or even worse, scorching. To avoid these pitfalls use a heavy bottomed saucepan and cook it over medium low heat, stirring constantly with a large heatproof rubber spatula. Make sure when stirring you reach the bottom, sides and corners of the saucepan to prevent the pudding from sticking and scorching. As you cook the pudding it may look lumpy but if you stir quickly the lumps should smooth out. Once the pudding has become thick, like mayonnaise, remove immediately from the heat. Straining the pudding will help get rid of any lumps that may have formed. Once you have added the chopped chocolate, vanilla and butter avoid over mixing the ingredients as the pudding is quite fragile at this stage. If you like your chocolate pudding warm, then by all means eat it right away. But if you like your pudding cold, simply press plastic wrap onto the surface of the puddings and refrigerate until firm (a couple of hours). For those who like a skin (film) on the top of their pudding, let the pudding cool uncovered and then cover with plastic wrap and refrigerate.
Click here for the video and recipe.
More Recipes at Joyofbaking.com
Article by Stephanie Jaworski
Photo by Rick Jaworski
© 2012 iFood Media LLC


New & Featured Recipes & Videos on Joyofbaking.com