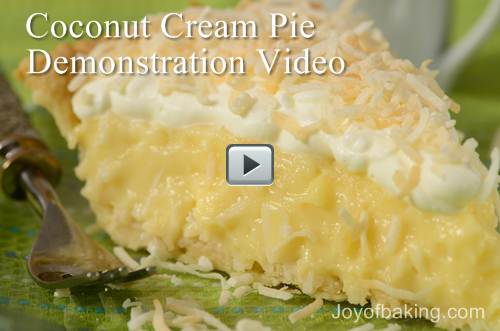 Coconut Cream Pie Video >
In our 190th video Stephanie demonstrates how to make a Coconut Cream Pie.
This Coconut Cream Pie takes a buttery crisp prebaked pastry crust and fills it with a coconut flavored cream. The crowning touch to this American favorite is lots of whipped cream and a sprinkling of toasted coconut. Very appealing, very comforting, and very tasty.
When you make this pie, the filling isn't baked in the oven, so the pastry crust needs to be prebaked. On the site there is a recipe for a buttery crisp prebaked pie crust, along with a demonstration video. Once made, allow the crust to cool completely before filling with the coconut cream.
The secret to a rich coconut flavored Coconut Cream Pie, is to use a combination of unsweetened coconut milk and whole milk in the filling. (Unsweetened coconut milk is not the same as sweetened coconut cream that is used to make pina coladas. Unsweetened coconut milk is a thick milk made from the grated meat of a coconut. It is usually sold in cans and you can find it in some grocery stores, specialty food stores, and Asian markets. Now, if you cannot find it, you can simply replace it with an equal amount of whole milk.) The coconut cream filling is like a vanilla pudding in that it is cooked on the stovetop. To ensure that your filling is wonderfully thick and smooth, stir constantly, making sure to stir the bottom and sides of the saucepan so you don't end up with small pieces of cooked egg. However, if you find this happening, simply strain the filling to remove any lumps. Once made, flavor the filling with vanilla extract and rum (optional), plus whisk in some butter to help make the filling silky smooth. I also like to stir in some toasted dried coconut, either sweetened or unsweetened, shredded or flaked. Toasting the coconut brings out its full flavor and adds a nice crunch. Once you pour the filling into the pastry crust, over with plastic wrap, and refrigerate for a few hours (or overnight) to thicken the filling so it doesn't run when you cut into it. Just before serving, whip the cream, spread on the chilled filling and garnish with toasted coconut.
Click here for the video and recipe.
More Recipes at Joyofbaking.com
Article by Stephanie Jaworski
Photo by Rick Jaworski
© 2012 iFood Media LLC


New & Featured Recipes & Videos on Joyofbaking.com