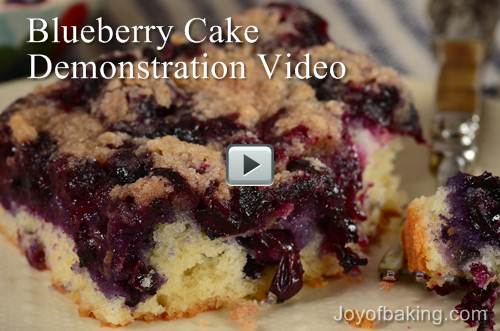 Blueberry Cake Demonstration Video >
In our 181st video Stephanie demonstrates how to make a Blueberry Cake.
One of the first desserts I make when fresh blueberries are in season is this Blueberry Cake, or Blueberry Buckle as it is often called. This is my mother's recipe, the one she always made with the wild blueberries we had picked. While it may be rustic looking, the combination of a soft and fluffy white butter cake, fresh blueberries, and a crunchy cinnamon flavored streusel, are simply irresistible. Serve this cake warm from the oven or at room temperature, with or without a scoop of vanilla ice cream. And leftovers are great for breakfast, preferably cold from the fridge, when the streusel has turned hard and crunchy.
Now, I urge you to try making this cake with other berries and fruits when they are in season. Raspberries and blackberries are especially nice, and during the fall and winter months it is excellent with sliced apples, plums or even pears. Just use enough sliced fruit to cover the entire surface of the cake batter and then top with the streusel mixture.
Blueberries are native to North America which means if you live in the right place you may be able to pick your own. For the rest of us there are cultivated berries which are much larger in size and lighter in color than wild blueberries. Both types are wonderfully sweet with just a touch of tartness. If taste isn't enough to get you to eat these berries, their health benefits will; rich in antioxidants, high in fiber, high in potassium, and low in sodium. When buying blueberries, look for firm, plump, fragrant, dark blue berries with a dusty white bloom. The white bloom is the blueberry's natural protection against the sun and is a sign of freshness. Always check the underside of the container for any wet spots or staining. Discard any soft, moldy, or crushed berries.
Click here for the video and recipe.
More Recipes at Joyofbaking.com
Article by Stephanie Jaworski
Photo by Rick Jaworski
© 2012 iFood Media LLC


New & Featured Recipes & Videos on Joyofbaking.com